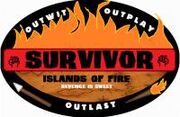 Contestant
Original Tribe
Switched Tribe
Outcast Twist
Finish
Total Votes
nick9811
Ikaika
The Outcasts
1st Voted Out
Day 3
2
RespectThePouch
Ikaika
2nd Voted Out
Day 6
3
survivor23
Ikaika
Ikaika
3rd Voted Out
Day 9
5

"felipe123"

Ikaika
Kaona
4th Voted Out
Day 12
4
dragotistic
Kaona
Kaona
Kaona
5th Voted Out
Day 13
4
PeaceOut14
Kaona
Ikaika
Ikaika
6th Voted Out
Day 13
2
felipe123
Ikaika
Kaona
Outcast
Luluai
7th Voted Out
1st Jury Member
Day 15
8
kindlycruel1
Kaona
Ikaika
Ikaika
8th Voted Out
2nd Jury Member
Day 18
4
ofl1998
Kaona
Ikaika
Ikaika
9th Voted Out
3nd Jury Member
Day 21
3

"jman9"

Kaona
Kaona
Kaona
10th Voted Out
Day 24
4
jman96
Kaona
Kaona
Kaona
11th Voted Out
4th Jury Member
Day 25
7
bowling4fun
Ikaika
Kaona
Kaona
12th Voted Out
5th Jury Member
Day 26
11
Flamelord
Ikaika
Kaona
Kaona
Runner Up
3
antega34
Kaona
Ikaika
Ikaika
Sole Survivor
4
Ad blocker interference detected!
Wikia is a free-to-use site that makes money from advertising. We have a modified experience for viewers using ad blockers

Wikia is not accessible if you've made further modifications. Remove the custom ad blocker rule(s) and the page will load as expected.