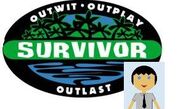 Bluba's Survivor Series bagan on February 12th, 2012. Every Season so far has featured some type of twist. Season one featured "Voted Out Voters", Season two feature "Deaily Tribe Swaps", Season 3 featured "Hunters vs Prey" and Season 4 featured "Lone Island". Season 5 featured the "Target's Twist". So far, 72 different people have competed in my survivor series, only four of which, have won the title of Sole Survivor. avatar3939 (Survivor Marquesas, Survivor Cook Islands, Survivor Palau) holds the record for the most virtual days played (80 days). MaryClare is the only person to have won the "Villain of the Season" title twice. After 5 seasons, the series ended on December 1st, 2012.
Season Rankings (Best to Worst)
Edit
1. Survivor Cook Islands
2. Survivor Palau
3. Survivor Marquesas
4. Survivor Africa
5. Survivor Borneo
Winners Rankings (Best to Worst)
Edit
1. boomske123 (Cook Islands)
2. Yaxha (Marquesas)
3. mattkwon1 (Palau)
4. EliOrtiz1234 (Borneo)
5. l0_0l (Africa)
Survivor Records
Edit
Most Votes received in a Season (not including Jury Votes): lamontlamar1998 (13 votes in Survivor Cook Islands)
Worst Pre-merge Tribe(s): Maraamu (lost every pre-merge challenge)
First person to win a Fire-Making Challenge: l0_0l
Most spread out vote: lamontlamar1998 voted out 4-3-2-1-1-1-1-1-1 (Survivor Africa)
Smallest Percentage of Jury Votes Received: Emmett4 (20%, 1/5 votes received)
Largest Percentage of Jury votes Received: EliOrtiz1234 (80%, 4/5 votes received)
Most Individual Immunity Wins- Yaxha (Survivor Marquesas) and boomske123 (Survivor Cook Islands) (5 wins)
Most overall immunities (tribal and individual): boomske123 (Survivor Cook Islands) (11 Immunities)
Most virtual days played: avatar3939 (80 Days)Edit
Only person to be "voted out" without receiving votes: Flamelord
People to receive 0 votes against them in one Season
Edit
*Yaxha received votes that were voided by Hidden Immuity Idols
Ad blocker interference detected!
Wikia is a free-to-use site that makes money from advertising. We have a modified experience for viewers using ad blockers

Wikia is not accessible if you've made further modifications. Remove the custom ad blocker rule(s) and the page will load as expected.