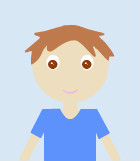 cool99 is a Tengaged player and group game host. He joined Tengaged on November 15th, 2011 and took a seven month break after just three weeks on the site. He is currently on Orange level. In August 2012, he began hosting a group game called Big Brother UK, however after many negative claims about the show, it was cancelled. He took up hosting again in October 2012 with the launch of Big Brother: Next Generation.
Group games
Edit
The following is a list of group games cool99 has taken part in and has hosted. NOTE: Only group games played on or after November 1st, 2012 will be listed.
Group games participated inEdit
Group games hostedEdit
Group Name
Date
No. of series
Notes
Big Brother: Next Generation
6/10/2012 -
11/11/2012
1
Second season not confirmed.
Cool's Big Brother
12/2012
1
USA version. Expected to begin near Christmas 2012.
Ad blocker interference detected!
Wikia is a free-to-use site that makes money from advertising. We have a modified experience for viewers using ad blockers

Wikia is not accessible if you've made further modifications. Remove the custom ad blocker rule(s) and the page will load as expected.