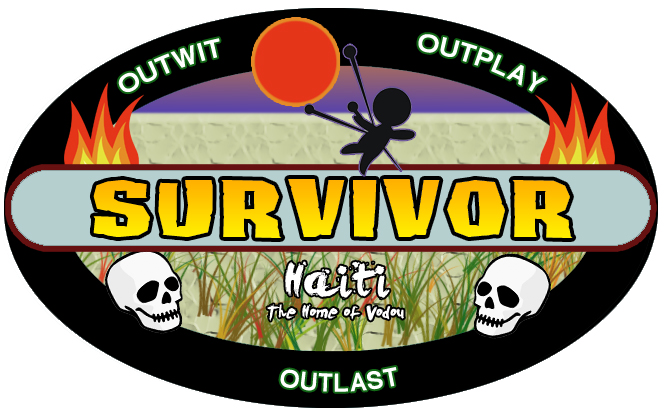 Survivor: Haiti - The Home of Vodou is the first season of the EmoPinata's Survivor franchise. The season featured eighteen people, divided into two tribes of nine.
Winner: Prozach (3-1)
Tribes:
     Marasa
     Simbi
     Merged
Castaways: 18
Days: ?
Episodes: 13
Location: Milot, Nord Department, Haiti
Original run: October 26th 2012 - November 23rd 2012
Followed by: Title
Contestants
Edit
Contestant
Original Tribe
Merged Tribe
Finish
Total Votes
Flamelord
33 Karma
Simbi
1st Voted Out
Day 2
4
davidc55555
33 Karma
Marasa
2nd Voted Out
Day 5
5
BigBrother06
13 Karma
Simbi
BigBrotherFan132
91 Karma
Marasa
DamnDrake
388 Karma
Marasa
1
dangon213
31 Karma
Simbi
1
Espinosa
26 Karma
Simbi
1
justdontevictme
45 Karma
Simbi
1
kmaynor2
148 Karma
Marasa
2
Mdawg1234
4 Karma
Simbi
Missalice3
44 Karma
Simbi
1
Nostalgic
63 Karma
Marasa
Parodox121
128 Karma
Simbi
Prozach
113 Karma
Marasa
swimboy818
106 Karma
Marasa
1
TDPokemonFan
61 Karma
Marasa
TheBizareOne
101 Karma
Marasa
trey2288
31 Karma
Simbi
1
The Total Votes is the number of votes a castaway received during Tribal Councils where the castaway was eligible to be voted out of the game. It does not include the votes received during the final Tribal Council.
Episode title
Immunity
Eliminated
Vote
Finish
A Showmance and The Title of "Sole Survivor"
Marasa
Flamelord
4-1-1-1-1-1
1st Voted Out
Day 2
I'm Scared of Tribal Council
Simbi
davidc55555
5-2-1-1
2st Voted Out
Day 5
I'm Not the Strongest Player
Marasa
justdontevictme
3rd Voted Out
Day 8
Kmaynor
In the case of multiple tribes or castaways who win reward or immunity, they are listed in order of finish, or alphabetically where it was a team effort; where one castaway won and invited others, the invitees are in brackets.
Episode 1: "A Showmance and the Title of "Sole Survivor""
Edit
Immunity Challenge: Every member of each tribe was sent a zombie movie poster with the name blurred out. They had to work as a tribe to figure out the nine titles and arrange them in chronological order.
Episode 2: "I'm Scared of Tribal Council""
Edit
Immunity Challenge: Teams played the game "Ball Revamped" the tribe who made it the furthest would win.
Episode 3: "I'm Not the Strongest Player"
Edit
Immunity Challenge: Every member of each tribe was sent a a Halloween trivia question, each person to answer their question correctly would score a point for their tribe.
Voting history
Edit
Original Tribes
Merged
Episode #:
1
2
3
4
5
6
7
8
9
10
11
12
13
14
Eliminated:
Flamelord
4/9 Votes
davidc55555
5/9 Votes
justdontevictme
3/8 Votes
Tie

Espinosa.
2/3 Votes

kmaynor2
3/8 Votes
trey2288
2/6 Votes
DamnDrake
4/7 Votes
Mdawg1234
3/5 Votes
Nostalgic
No Vote
Tie
Missalice3 5/5 Votes
BigBrother06 4/8 Votes
Parodox121 4/7 Votes
dangon213 3/6 Votes
swimboy818 4/5 Votes
TDPokemonFan 2/4 Votes
BigBrotherFan132 1/1 Vote
Voter
Vote
Prozach
davidc55555
DamnDrake
DamnDrake
Missalice3
Missalice3
BigBrother06
Parodox121
dangon213
Prozach
TDPokemonFan
BigBrotherFan132
TheBizareOne
davidc55555
kmaynor2
DamnDrake
TheBizareOne
X
TheBizareOne
Parodox121
TheBizareOne
swimboy818
TheBizareOne
BigBrotherFan132
davidc55555
TDPokemonFan
swimboy818
swimboy818
Missalice3
BigBrother06
Parodox121
swimboy818
swimboy818
TDPokemonFan
TDPokemonFan
kmaynor2
kmaynor2
DamnDrake
Missalice3
Missalice3
BigBrother06
Parodox121
dangon213
swimboy818
BigBrotherFan132
swimboy818
swimboy818
Prozach
swimboy818
swimboy818
None
swimboy818
swimboy818
swimboy818
swimboy818
dangon213
dangon213
Espinosa
dangon213
Espinosa
dangon213
dangon213
dangon213
Missalice3
dangon213
dangon213
dangon213
Parodox121
Flamelord
justdontevictme
BigBrother06
X
Missalice3
Missalice3
swimboy818
Missalice3
swimboy818
swimboy818
BigBrother06
Flamelord
Missalice3
Espinosa
Espinosa
Mdawg1234
Mdawg1234
BigBrother06
X
BigBrother06
Missalice3
Missalice3
justdontevictme
Missalice3
X
BigBrother06
Mdawg1234
Missalice3
None
Nostalgic
davidc55555
Nostalgic
Nostalgic
Mdawg1234
trey2288
trey2288
trey2288
trey2288
trey2288
Mdawg1234
DamnDrake
DamnDrake
DamnDrake
DamnDrake
trey2288
Flamelord
Mdawg1234
trey2288
None
trey2288
kmaynor2
kmaynor2
kmaynor2
Espinosa
Espinosa
Espinosa
Espinosa
None
justdontevictme
justdontevictme
justdontevictme
davidc55555
davidc55555
Flamelord
Flamelord
Jury vote
Finalist:
TheBizareOne
1/4 Votes
Prozach
3/4 Votes
Juror
Vote
BigBrotherFan132
TheBizareOne
TDPokemonFan
Prozach
Parodox121
Prozach
BigBrother06
Prozach
Ad blocker interference detected!
Wikia is a free-to-use site that makes money from advertising. We have a modified experience for viewers using ad blockers

Wikia is not accessible if you've made further modifications. Remove the custom ad blocker rule(s) and the page will load as expected.