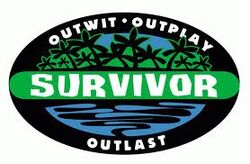 Face's Survivor Series
began officially with Season One on July 6th and is currently still on its first season. The rules play out as a typical survivor, where 16-24 people are placed in some of the most desolate locations in the world and they compete for money and the title "Sole Survivor". So far, ? people have made appearances in 1 season. Twists that include in every season are Tribal Swap, and Hidden Immunity Idols. The series has challenges, tribal councils, and a viewers lounge in which potential future contestants and past contestants can submit their opinions on the season being played out.
The Group
has been planned with the help of CaptainTangerine and LoganWorm.
Season
Tribes
Location
Sole Survivor
Runner(s)-Up
POS
Survivor 1: Vietnam
???
North Nha Trang,
Khanh Hoa, Vietnam
???
???
???
POS = indiciates Player of the Season
Ad blocker interference detected!
Wikia is a free-to-use site that makes money from advertising. We have a modified experience for viewers using ad blockers

Wikia is not accessible if you've made further modifications. Remove the custom ad blocker rule(s) and the page will load as expected.