Palau was the first season created by Joshie on tengaged!
The game featured 16 contestants with no twists and no hidden idols. Nathan was the ultimate winner of the season getting all seven jury votes to beat Cassie. Nathan won the "Sprint Player Of The Game" award while Connor won fan favorite recieving 31.5 percent of the votes.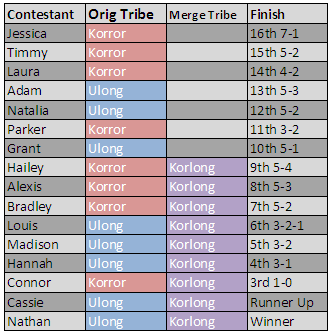 Ad blocker interference detected!
Wikia is a free-to-use site that makes money from advertising. We have a modified experience for viewers using ad blockers

Wikia is not accessible if you've made further modifications. Remove the custom ad blocker rule(s) and the page will load as expected.