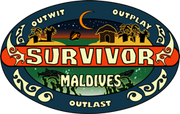 Survivor: Maldives -- Battle of the Colors was the eighth season of JB's Blog Survivor. This was the second consecutive season to take place in Manafaru, Maldives. It featured fifteen Tengagers, one of each color level, posting their name on a blog. This season also featured the Shadow Survivor twist, with the base of the twist from Suitman13's Survivor: Amazon. The series started on August 5th, 2012 and ended on August 19th, 2012. All the episodes can be found here: #survivormaldives
Contestants
Edit
Contestant
Color Level*
Original Tribe
Lower v. Higher
Three Tribes
Merge
Voted Out
Total Votes

Zoe Cora, 24

Tampa, FL

Brown
Day 3
0
Monty Lamar, 33

Athens, GA

Orange
Kamana
Day 6
5
Ty Hamming, 42

Decatur, TX

White
Aarah
Day 9
5
Samantha Lopresti, 31

Youngstown, OH

Silver
Kamana
Aarah
Day 12
4
Rachel Tannisburg, 27

Shreveport, LA

Light Green
Kamana
Kamana
Day 15
4
Ellie Hawkins, 28

Reno, NV

Red
Kamana
Kamana
Madulu
Day 18
3
Jake Preston, 23

Roanoake, VA

Black
Kamana
Aarah
Madulu
Thaana

Day 19

~Jury~

4
Keith Monrowe, 27

Provo, UT

Gold
Aarah
Aarah
TESORO
Thaana

Day 22

~Jury~

5
Thomas Pembroke, 25

Los Angeles, CA

Sky
Kamana
Aarah
Aarah
Thaana

Day 25

~Jury~

6
Ronald O'Hare, 29

Littleton, CO

Blue
Aarah
Kamana
Kamana
Thaana

Day 28

~Jury~

8
Kevin Braden, 34

Manhattan, KS

Blood
Aarah
Aarah
Aarah
Thaana

Day 31

~Jury~

7
Nina Costa, 39

Oshkosh, WI

Dark Green
Aarah
Kamana
Kamana
Thaana

Day 32

~Jury~

5
Rowena Novak, 40

Queens, NY

Shadow Survivor
Shadow
Shadow
Shadow
Thaana

Day 33

~Jury~

3
Bianca Tavera, 29

San Jose, CA

TV Star
Kamana
Aarah
Aarah
Thaana

Day 34

~Jury~

4
Sam Sparwasser, 25

Rochester, NY

Yellow
Aarah
Kamana
Kamana
Thaana
Second Place
3**
Juliet Dawkins, 23

Memphis, TN

Purple
Aarah
Kamana
Madulu
Thaana
Sole Survivor
0
*Color Level at time of Application Blog
*Rowena played her immunity idol for Sam, nullifying four of his votes
Episode Title
Reward
Immunity
Voted Out
Total Votes
Finish
"Icebreaking"
Zoe
Not Selected
1st Voted Out // Day 3
"Scumbags"
Aarah
Monty
5-2
2nd Voted Out // Day 6
"Sumo"
Aarah
Kamana
Ty
5-2
3rd Voted Out // Day 9
"Shuffle"
Kamana
Samantha
4-2
4th Voted Out // Day 12
"Guess"
Aarah
Aarah
Rachel
4-3
5th Voted Out // Day 15
"Shadows"
Keith
Aarah
Ellie
3-1
6th Voted Out // Day 18
"Rowena"
Jake
1-0
7th Voted Out // Day 19 (Jury)
"Fresh"

Bianca

Ronald

Rowena

Sam

Kevin
Keith
5-3-1
8th Voted Out // Day 22 (Jury)
"Festival"

Kevin

[Ronald, Rowena]

Kevin
Thomas
6-2

9th Voted Out // Day 25 (Jury)

"Marionette"
Survivor Auction
Sam
Ronald
4-3

10th Voted Out // Day 28 (Jury)

"Bushes"

Nina

Rowena

Bianca
Kevin
2-0

11th Voted Out // Day 31 (Jury)

"FINALE"

Rowena

Sam

Juliet

Nina

Rowena

Bianca

3-2

3-1

1-0

12th Voted Out // Day 32 (Jury)

13th Voted Out // Day 33 (Jury)

14th Voted Out // Day 34 (Jury)
Voting History
Edit
Contestant
Day 3
Day 6
Day 9
SWITCH
Day 12
Day 15
SWITCH
Day 18
MERGE
Day 19
Day 22
Day 25
Day 28
Day 31
Day 32
Day 33
Day 34
FINALE
Juliet
Aarah
TESORO
Kamana
Rachel
Madulu
Ellie
Thaana
Keith
Thomas
Ronald
Sam
Sam
Rowena
Bianca
WINNER
Sam
Aarah
Ty
Kamana
TESORO
Kamana
Thaana
Keith
Thomas
Kevin
Kevin
Nina
Rowena
No Vote
SECOND
Bianca
Kamana
Monty
Aarah
Kevin
Aarah
Thaana
Sam
Thomas
Ronald
Sam
Nina
Rowena
No Vote
Juliet
Rowena
Shadow
Jake
Ty
Shadow
Samantha
Rachel
Shadow
Samantha
Thaana
Jake
Keith
Thomas
Kevin
Kevin
Nina
Bianca
Sam
Nina
Aarah
Ty
Kamana
Rachel
Kamana
Thaana
Keith
Thomas
Ronald
Sam
Sam
Juliet
Kevin
Aarah
Nina
Aarah
Samantha
Aarah
Thaana
Bianca
Ronald
Ronald
Sam
Sam
Ronald
Aarah
Ty
Kamana
Rachel
Kamana
Thaana
Keith
Thomas
Kevin
Sam
Thomas
Kamana
TESORO
Aarah
Samantha
Aarah
Thaana
Bianca
Ronald
LEFT*
Keith
Aarah
Ty
Aarah
Samantha
TESORO
TESORO
Thaana
Bianca
Juliet
Jake
Kamana
Monty
Aarah
TESORO
Madulu
Ellie
Thaana
Juliet
Ellie
Kamana
Monty
Kamana
Ronald
Madulu
Jake
Rachel
Kamana
Monty
Kamana
Ronald
Samantha
Kamana
Monty
Aarah
Kevin
Ty
Aarah
Nina
Monty
Kamana
Jake
Zoe
Not Selected
TESORO
--
Thomas
Juliet
--
Jake
Sam
Keith
*Thomas left the Maldives after he was voted out due to personal reasons. He would not vote at the final Tribal Council.
Ad blocker interference detected!
Wikia is a free-to-use site that makes money from advertising. We have a modified experience for viewers using ad blockers

Wikia is not accessible if you've made further modifications. Remove the custom ad blocker rule(s) and the page will load as expected.