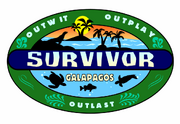 For eight seasons of
Smiley20's Survivor Series
new groups of ambitious tengagers have battled it out to see who could outlast the others in a test of skill and strategy all over the world. Now a new group is converging on the Galapagos Islands a stunning archepalago made up of volcanic islands off the coast of Ecuador in the Pacific Ocean. These beautiful islands host some of the most unique animals on the face of the planet. Swiiming lizards, flightless birds, and huge totrtises are just some of the many natural wonders to be found in this island paradise. It was here Charles Darwin formulated many of the ideas that would lead to his fame. Now 16 survivors will test the theory of survival of the fittest for themselves. Who will fall by the way side and who will adapt to become the next SOLE SURVIVOR?
Contestant
Tribe

Switch

Merge
Voted out
Redemption
Finish
Votes
DoubleSS
Lagarto
2nd voted out
1st duel loser
day 7
3
Dane_Williams
Tortuga
Evacuated
Evacuated
day 10
0
Clues
Tortuga
Tortuga
Evacuated
Evacuated
day 13
0
Glinda
Tortuga
1st voted out
Evacuated
day 13
3
tyler
Lagarto
Tortuga
4th voted out
2nd duel loser
day 16
6
Deadbeatjonah
Tortuga
Tortuga
3rd voted out
2nd duel loser
day 16
4
Darwin
Ad blocker interference detected!
Wikia is a free-to-use site that makes money from advertising. We have a modified experience for viewers using ad blockers

Wikia is not accessible if you've made further modifications. Remove the custom ad blocker rule(s) and the page will load as expected.